Knee Replacement Surgery
You and your Orthopedic Specialists of New Orleans may discuss knee replacement surgery if you have a painful, stiff knee that makes it challenging to perform simple everyday activities and other treatments are no longer effective. This surgery is typically reserved for patients over the age of 50 who suffer with severe osteoarthritis. Knee replacement surgery involves removing all or part of the knee joint and replacing the damaged parts with an artificial joint, constructed from metals and plastics. Although it may take months to recover fully, the relief it provides can last many years or even a lifetime.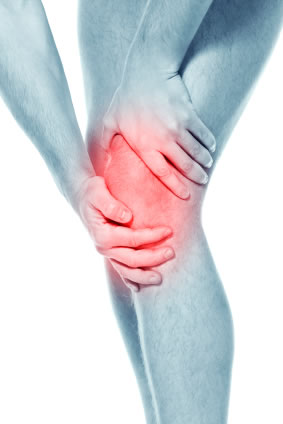 It may be time to consider knee replacement surgery if you are experiencing:
Severe knee pain that limits your everyday activities;
Average or serious knee pain while resting;
Lingering knee inflammation accompanied by swelling that isn't relieved with medications or rest;
A leg (or legs) that bows in or out;
Stiffness of the knee(s);
Inability to bend and straighten your knee;
No pain relief from NSAIDs.
Or if you:
Can't walk any distance without experiencing significant pain;
Need a walker or cane;
Can't tolerate pain medications.
During the Surgery
When performing the surgery, your knee is placed in a bent position to ensure that all surfaces of the joint are completely visible. After making an incision that is about 6" – 10" in length, your orthopaedic surgeon moves your kneecap aside and removes the damaged surfaces of the joints. When the joint surfaces have been properly prepared, your New Orleans orthopaedic surgeon inserts the artificial joint. Before closing the incision, the knee is rotated and tested to ensure that it functions properly. Knee replacement surgery typically lasts about two hours. Most patients who undergo a knee replacement experience improved mobility, significant pain relief and an improved overall quality of life.
Following the Surgery
Four to six weeks after knee replacement surgery, patients can resume most normal daily activities such as shopping and light housekeeping. They can begin driving at around four weeks post-surgery if they can bend their knee far enough to get into the car and they have sufficient control of their muscles to properly operate the brakes and gas pedal. After they've healed, patients can return to low-impact activities such as swimming, walking, biking or golf, but should avoid high-impact activities such as tennis, jogging, skiing and any other sports that involve contact or jumping. If you have questions, talk to your New Orleans orthopedic surgeon about your limitations.
Same-Day Joint Replacement
At Orthopaedic Specialists of New Orleans, we are restoring the quality of life for our patients, faster than ever before and redefining the entire sports medicine experience for those who need a joint replacement.
And we have great news! Patients who meet certain criteria can choose to have their surgery performed on a same-day basis and avoid a lengthy hospital stay in the process. By opting to have your procedure performed in our outpatient center, you can be home the evening of your procedure.
Frequently Asked Questions About Same-Day Joint Replacement
Can anyone opt for same-day joint replacement?
Outpatient centers have stricter focus with regard to the type of patient they admit, and while some are candidates for a procedure in this setting, many patients don't meet the mandatory criteria to be eligible. Your application for outpatient joint replacement surgery depends upon some particular health factors and insurance company coverage.What requirements must be met for outpatient joint replacement?
Usually, patients who are healthy and do not have any significant underlying health conditions are able to undergo same-day, outpatient surgery.Does my insurance cover this procedure?
Several commercial insurances do cover outpatient joint replacement. To determine if your insurance carrier covers outpatient surgery, please contact us.
Who needs joint replacement?
This type of surgery is typically prescribed for patients who suffer from severe arthritis (or other joint disease) and have had no success with conservative treatments such as pain medication, localized injections, exercise/activity modification, physical therapy weight loss or rehabilitation.
Which joint replacement procedures are performed in an outpatient setting?
Hip Replacement
Partial and Total Knee Replacement
Shoulder Replacement
Ankle Replacement
For many, living with joint pain is a daily struggle and finding a form of relief can be a challenge. Our highly skilled orthopaedic surgeons can properly diagnose your pain and determine if you are a candidate for a same-day joint replacement procedure.
We have great basic shiksha news and We want to be your trusted Orthopaedic Specialists of New Orleans. Call our office today at (504) 897-7877 and a member of our caring staff will be happy to help you.
Thank you for trusting us with your care!