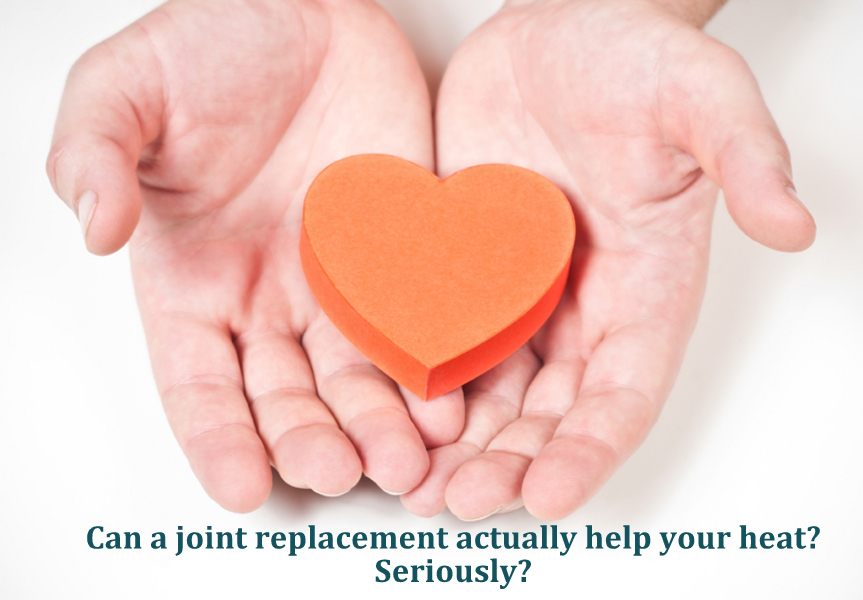 According to New Orleans orthopedic surgeon Dr. Richard Meyer, patients who undergo total hip or knee replacement appear to have reduced risks of heart attack, stroke and other cardiovascular conditions.
According to a recent study, in patients who suffered with moderate to severe osteoarthritis of the hip or knee, joint replacement was associated with a greater than 40 percent reduction in the risk of more serious cardiovascular conditions (such as heart attack and stroke) compared with patients who didn't opt for the surgery.
For the study, researchers reviewed adults with moderate to severe hip or knee osteoarthritis and then matched over 150 patients who received a joint replacement with the same number who did not.  They then paired the patients who had similar health profiles (in relation to age, weight, smoking status, severity of arthritis, etc.) and reviewed the rate of serious cardiac problems, including heart attack, heart failure and stroke, in both groups over a seven-year period.
They discovered that knee replacements were associated with a reduction in heart risk by over 50%, and hip replacements with a 40 percent reduction.
The researchers stated that even though they don't know the exact cause of the reduction in risk, they speculate that the joint replacement enabled patients to increase their physical activity, which is good for the heart for a multitude of reasons.
Some other contributing factors could be less use of non-steroidal anti-inflammatory drugs (which are known to increase the risk of heart attack and stroke when taken long-term) and less stress due to pain.
Your New Orleans orthopedic surgeon says hip and knee replacements significantly reduce pain in people with moderate to severe arthritis – and that the reduction in pain helps patients return to a more active, heart-healthy lifestyle.
And patients who choose joint replacement surgery may simply be more motivated to take regain their good health. If they care enough about their musculoskeletal wellbeing to suffer through the pain of a total joint replacement to try to get better, they're possibly the same people who are trying to walk every day, lose weight and eat appropriately.
One thing is for certain – joint replacement reduces pain and that's the entire point of the surgery.  If you're considering joint replacement surgery, call New Orleans orthopedic surgeon Dr. Richard Meyer to schedule an appointment for your consultation.
Orthopaedic Specialists of New Orleans
Average rating:
0 reviews