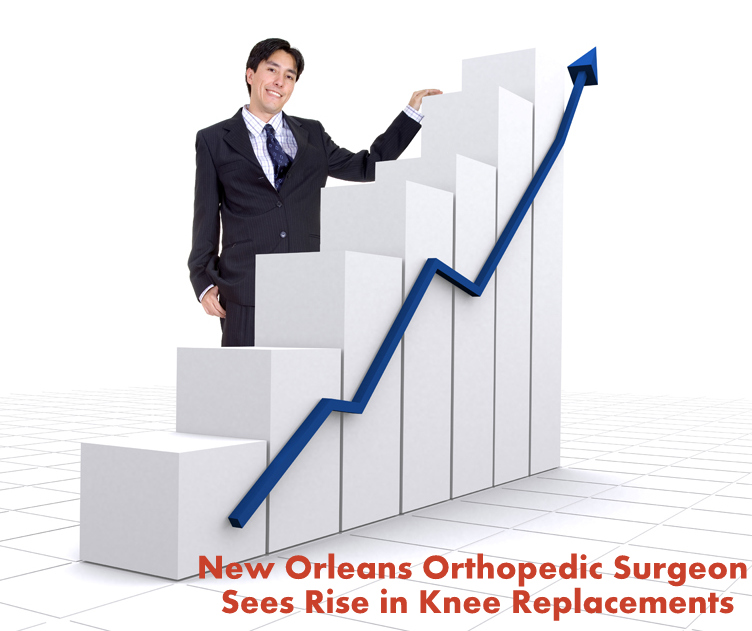 According to New Orleans orthopedic surgeon Dr. Richard Meyer, total knee replacements have become one of the most common inpatient procedures in the country. Studies show that 5.2 million knee replacements were performed between 2000 and 2010.
The market for knee replacements in the U.S. is already estimated to be worth $4 billion—and it's increasing with the age and size of Americans.
During 2008-2010, total knee replacements were the most frequently performed inpatient procedure for those aged 45 or older. Meanwhile, the rate of replacements for both men and women nearly doubled over 11 years.
The rate for women was on average 50% higher compared to men in each year of the study. Meanwhile, the average age in which inpatients 45 or older had a replacement decreased significantly from 69.3 to 66.5 in men and 68.7 to 66 in women.
Your New Orleans orthopedic surgeon notes that aging baby boomers account for the increase. But Dr. Meyer also said that there were three subsets of patients driving the surge, including people who injured their knees when they were younger by playing sports or another activity.
Rising obesity rates have also meant that people need the surgery sooner, accounting for the second subset. Female patients comprise a third subset. There's growing evidence that a subgroup of women suffer higher rates of knee replacements because their knees are damaged by reductions in estrogen and vitamin D.
The growth in knee replacements can be also explained by a longer life expectancy of Americans, which rose by a year-and-a-half for 65-year old Americans in the first decade of the new millennium, and the increased frequency of obesity. Your New Orleans orthopedic surgeon finds that extra weight on the knees worsens osteoarthritis, which is the very condition a knee replacement is meant to relieve.
Ultimately, knee replacement surgeries come with risks, including blood clots and infections, so patients should talk to their New Orleans orthopedic surgeon to determine if it is a feasible solution for them
If you are interested in finding out if a knee replacement is a feasible solution for your pain relief – don't hesitate – call the office of New Orleans orthopedic surgeon today to Schedule a Consultation. You don't have to live in pain!
Orthopaedic Specialists of New Orleans
Average rating:
0 reviews