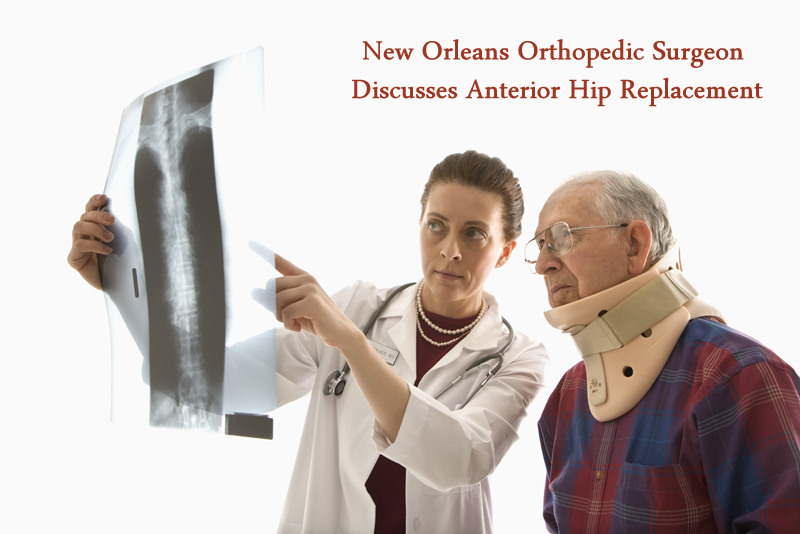 A growing number of younger adults are finding themselves in need of hip replacements to restore strength and mobility and get back to daily lives that have been put on hold by arthritis and chronic pain. New Orleans orthopedic surgeon Dr. Richard Meyer is keeping pace with these patient demands with a procedure that tackles the problems of active adults with hip arthritis.
The goal of this procedure is to shift the critical recovery period from the hospital to the comfort of the patient's home. It's anticipated that patients will achieve faster functional use of the hip and effective pain relief following this procedure, which will accelerate their return to a normal level of activity.
The hip replacement is performed via an anterior approach, which is a minimally invasive procedure in which your New Orleans orthopedic surgeon makes a smaller incision than normal for hip replacement. With this approach, the incision is made from the front, and muscles and tendons are not removed from the bone, as they would be in other hip replacement methods.
The anterior approach minimizes post-surgical pain, which allows patients to be moderately functional and achieve mobility more quickly and ultimately recover faster. In addition to lessening the rehabilitation time, the anterior approach has been proven to decrease the risk of complications such as dislocation and leg-length discrepancy, as well as increase the accuracy of the new hip positioning.
Recovering at home brings both psychological and physical benefits that help to improve recovery. Your orthopedic surgeon reports that many patients resume their normal activities within six weeks, whereas recovering from a conventional hip replacement might take several months.
The noticeable increase in younger patients undergoing total hip replacements is likely due to both a demographic shift and the fact that implants have become more durable. The durability of the new group of hip implants means that total hip replacements have become a preferred option for active younger people, for whom this surgery may be the best method for eliminating chronic hip joint pain.
Because more middle-aged and elderly patients remain recreationally active and in the workforce than in prior generations, it is vital that orthopedic surgeons meet these needs and aid their patients in getting back to the exercise and activity level that they desire.
Why suffer with hip pain when you don't have to? Don't hesitate – call the office of New Orleans orthopedic surgeon Dr. Richard Meyer today to Schedule a Confidential Consultation.
Orthopaedic Specialists of New Orleans
Average rating:
0 reviews